Dr. Estela Apolinar has strong leadership qualities and strives to provide excellent care to her patients. She is a bilingual cardiologist, fluent in Spanish and English, who recently joined Valley Heart Associates. Before that, she was with Premier Cardiovascular Center and practiced with Cardiovascular Associates of Mesa, as well as Oregon Cardiology PC in Eugene, Oregon.

Dr. Apolinar obtained her medical degree from the University of Cincinnati, Ohio in 2000 and completed her residency training at University of Arizona Health Science Center, Tucson, AZ in 2001 and University of Cincinnati Hospital in 2003. She completed her cardiology fellowship in 2006 at the University of Cincinnati Hospital, Cincinnati, Ohio.

Dr. Apolinar is board certified in cardiology and internal medicine and has a nuclear cardiology certification. She is a member of the American College of Cardiology. Dr. Apolinar is well recognized for her community service activities and provides care at Chandler Regional Medical Center and Mercy Gilbert Medical Center.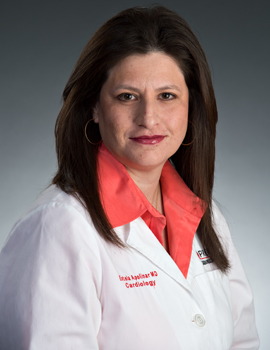 Education & Credentials
Medical School: University of Cincinnati
Fellowship: University of Cincinnati Hospital
Specialties
Internal Medicine
General Cardiology
Interventional Cardiology
Vascular Medicine, Nuclear Cardiology